ABOUT US
Fitball Australia has been distributing Fitness and Wellness products and equipment into Gyms, Fitness Centres, Rehabilitation Departments, Schools and Development sectors since 1991.
With years of experience behind us, we have tweaked and improved our offering along the way to ensure that we are able to provide you with quality products.
We believe that you can do anything you set your mind to and we would like to inspire your fitness journey by sharing our products with you. We would love to help you achieve your lifestyle goals.
OUR PRODUCTS
Our products are made in Italy, by the world leading manufacturer of PVC fitness, rehabilitation and exercise equipment.
They are specifically designed for physiotherapy and rehab and are the perfect addition to any home/office/gym. Whether you are practicing Yoga, Pilates or training at a gym or your home, our products will help to motivate and engage a better and more effective workout routine.
We have products suitable for all ages. From motor skill enhancing kids' inflatables to strength and conditioning training bowls, we are your one stop shop for all your fitness needs.
If you're looking for sustainable and quality fitness products, Fitball Australia is the sure choice!
OUR FITBALLS
Our Fitballs (once known as a Swiss Ball) are a simple yet effective exercise tool used to strengthen and tighten your physique. They are perfect for all ages and all levels of exercise.
They are BRQ (burst resistant quality) rated with a weight tolerance of 300kg, so you can rest assured that your safety is our priority.
Fitballs are a versatile product that can be used for a range of exercises and rehabilitation purposes. They can be used in conjunction with Yoga/Pilates moves as an instrument to help with balance, stretching and building core strength.
They can also be used as a seating alternative to improve posture, core stability and muscle balance.
Our Fitballs are regularly used by Practitioners to help patients build strength and muscle. They are a great tool for all, from kids to the elderly.
SAFETY
Our products are made with High Quality PVC Vinyl and are completely free of any harmful chemicals. So you can be confident that your healthy lifestyle is sustained even with the products that you use.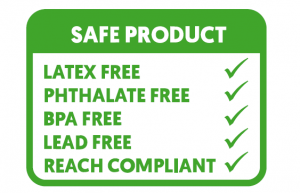 Our products are also recyclable – Healthy Earth, Happy Us.